ENJOY THE PINNACLE OF Cinema AT HOME
Premier new movies in your home with an immersive world-class cinema. It's the perfect venue for family classics, movie marathons, binge watching TV series, or catching Live events like broadway productions, professional sporting events, and live concerts.
Create an unforgettable CINEMA Experience
Easily find what you want to watch using an award-winning interface that provides multiple options for interacting with your movie collection. Browse your entire library, bringing related movies, series, and concerts into view. Play trailers, create personal collections, or jump custom Kaleidescape curated movie scenes and songs.
Just press PLAY – lights automatically dim when the feature begins, and then slowly raise again when the end credits roll. Kaleidescape can open and close your curtains and automatically adjust your screen masking – while also activating your preferred audio track and subtitles.
Experience awe-inspiring video quality, and pure, lossless reproductions of the original motion picture. With a video bitrate 4x higher than streaming services — i.e. less data loss and more crystal-clarity — action scenes and special effects are especially breathtaking and realistic.
Feel heart-pounding sound exactly as the movie director intended with lossless 3D audio that's 10 times the bitrate of streaming services, a difference you will hear both in the ground-shaking rumbles and in the most subtle audio passages.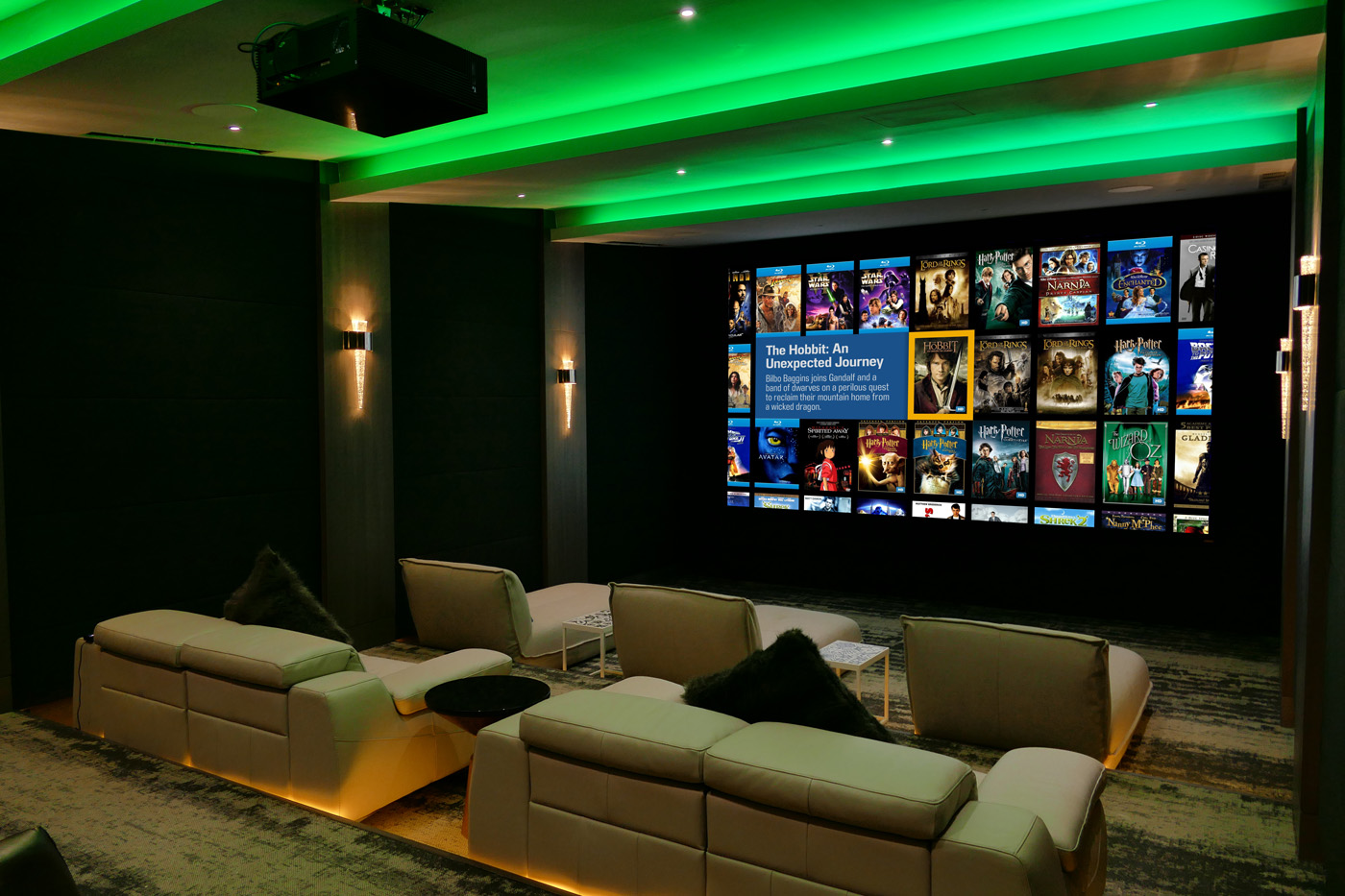 VISUALLY IMMERSIVE YOURSELF
Set the mood, create scenes and adjust colors on the fly with cinema accent and task lighting and easy-to-use apps that let you achieve almost any cinematic atmosphere.
Enjoy ambience that draws you further into cinematic, sport, and entertainment experiences with a combination of direct, focused, and indirect lighting that gives your walls or ceiling a soft glow, makes your seating pop, highlights the architectural features of the room, and accentuates the unique design of your theater.
Bring the magic of starry nights into your home cinema – with realistic twinkling stars, complete with constellations and shooting stars. Create a magical atmosphere that melts your daytime worries away and evokes memories of a cloudless starry night sky with thousands of high quality tiny fiber optics that twinkle gently overhead.
Dozens of light effects and intuitive controls allow you to adjust the starlight's brightness, colors scheme, twinkle pulsation, and light transitions at the touch of a button. An intelligent processing system creates amazing realism by simulating real star patterns as they would appear if the night sky, making your starlight ceiling even more spectacular and realistic.
Hear The Whole Spectrum of Sound 
If you want the ultimate in sound; to hear the lowest bass rumbles of an explosion to the mild midrange of human conversation to the highest brilliance of tinkling glass – it comes down to one thing: acoustics. Great acoustics can make average equipment sound great, and great equipment sound truly amazing.
Achieving perfect acoustics is a science – one that can ensure a properly designed home theater, no matter the size or shape, gives you the absolute best sound possible. By designing your cinema space to perform as well as your hi-end audio and video hardware you'll hear the whole audio spectrum in rich detail, which will keep you captivated and immersed in every cinema experience.
MAKE YOUR THEATER TRULY ONE-OF-A-KIND
Let your imagination run wild with a themed cinema – and give your movie-going experience an extra "Wow!" factor that embodies your interests, personality, and truly makes it one of a kind.
A few popular themes that never go out of style: Classic Hollywood, Night at the Drive-in, Sci-Fi, Sports Enthusiast, Animation Fanatic, and Fantasy.
Classic Hollywood
– red velvet curtains, plush carpet, crown molding, and a chandelier hanging above you – it's decadent, indulgent, and feels like you've stepped back in time.
Night at the Drive-in
– bring your favorite elements of the great outdoors – faux grass, star lights, and retro cars – inside where the weather is always perfect.
Sci-Fi
– whether it's Star Trek, Star Wars, Galaxy Quest, or Spaceballs – recreate your favorite set or scene, add smart automations, and feel like a captain navigating through deep space.
Sports Enthusiast
– watch from the comfort of your own private "sky box" and create a luxury experience that's every bit as good as being at the big game.
Animation Fanatic
– from Walt Disney and Pixar Studios to Warner Bros., Nickelodeon and DreamWorks Animation – surround yourself with your favorite stories and characters.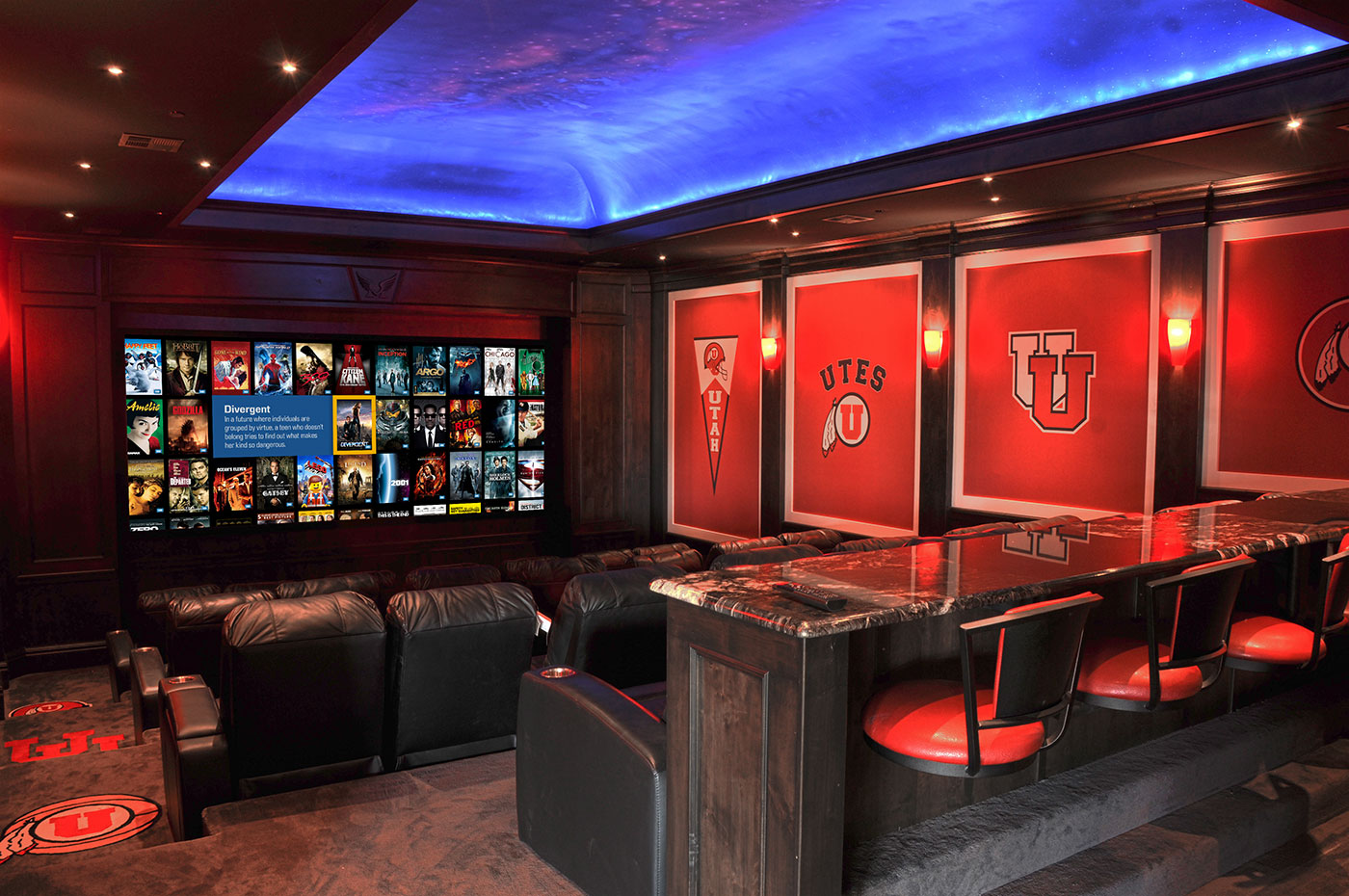 FEEL THE MOVIE WITH D-BOX SEATS
Add physical sensation and motion to your cinema with seating that perfectly synchronizes motion technology to create richer, fuller experiences, bringing your movies, games and entertainment experiences to life like never before.
Motion seating creates realistic, haptic and immersive entertainment experiences by providing feedback to your whole body – sparking your imagination through motion. With motion codes available for over 2000 movies, personalized controls and ultra-comfortable seats, watching movies at home will never feel the same again.
Building private cinemas in your favorite community.
Transforming your vision into a beautifully appointed cinema that's designed to stand the test of time, technically and aesthetically.
ABSOLUTE TOP QUALITY
Your private cinema will be designed to last, with high-quality materials and innovative methods that go far above and beyond accepted standards.
UNBEATABLE TIME LINES
Using the most skilled team in the area enables us to design and build your cinema faster... much faster.
EARLY INVOLVEMENT
Unlike most integrators, we start working with you right from the beginning, providing assistance with ideation and design.
VALUE ENGINEERING
We help value engineer your project, identifying where it's worth investing more money and where a less costly option will provide the results you desire.
WHITE GLOVE SERVICE
From concept to project management, problem solving and quality control - we remove common stresses, and simplify a very complicated process for you.
PROFESSIONAL TEAM
We have full-time staff and a large network of trusted manufacturers. Giving us the bandwidth to properly manage your custom project, and pay close attention to details.